Scoop Publishing has continued to expand its product line in a sign that founder David Hogan has no intentions of slowing the growth of Western Australia's most recognised lifestyle magazine publisher.
Scoop Publishing has continued to expand its product line in a sign that founder David Hogan has no intentions of slowing the growth of Western Australia's most recognised lifestyle magazine publisher.
Over its 17-year lifespan the business has grown, in product terms, by at least one new title every two years.
Most recently it has added online databases that guide users through key events, venues and arts organisations throughout the state.
It supplements Scoop's online 'shop', selling discounted vouchers to high-end retail, entertainment and food and wine outfits, and its nine separate hard copy magazine titles, which are also free online.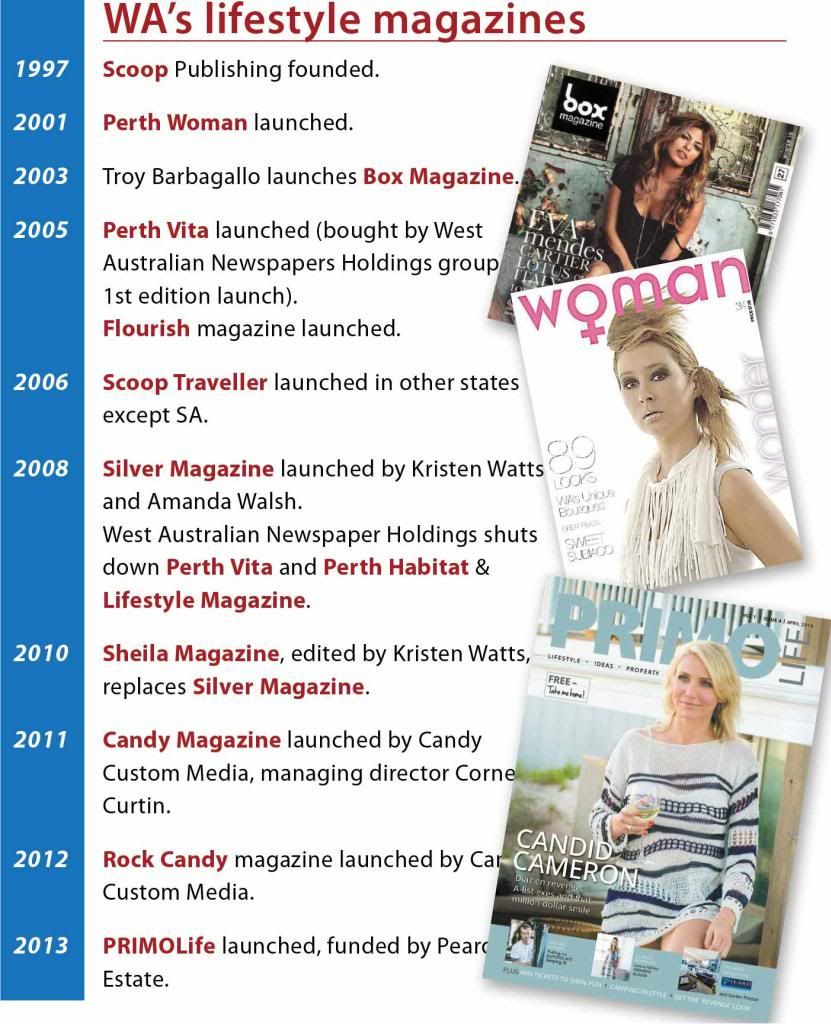 In a tough retail market it could be assumed advertisers were pulling back, but Mr Hogan told Business News Scoop's clients had responded differently and were jumping at the opportunity to tap into its typically wealthy readership.
"With the way business is going … markets that were sustainable before just aren't sustainable now – doing a $10,000 kitchen just isn't lucrative anymore," he said.
"We're getting more and more demand for advertising because, if anything, businesses realise that survival is about hitting that top 10 per cent of the market that is prepared to pay for quality and service."
He said the business was also benefiting from advertisers realising the initial enthusiasm for online marketing might have been misguided.
"Online is great for certain things … it's a qualifying end of the marketing chain scenario and a good way of maintaining client contact through social media and so on," Mr Hogan said.
"But it has no brand value whatsoever. Businesses still need brand and magazines are still the most trusted advertising vehicles in the world.
"What we're finding now is that a lot of clients are coming back and saying online is good, but they need a sensible marketing mix – we have a lot of clients that skipped out for two or three years coming back to us now."
But despite the positive reports, Mr Hogan admits last year was tough; focus was taken off increasing advertising spend and magazine sales due to increased attention on building the new online products.
In general, Mr Hogan says the growth of Scoop has been far from straightforward.
For example, an attempt to expand nationally with Scoop Traveller magazine in 2006 fell into a heap when the global financial crisis hit, severely affecting the company.
"That was very tough because we had to realise a lot of losses and lick our wounds," Mr Hogan said.
"The WA division has always been profitable, but we took a big hit with the national expansion."
It taught Mr Hogan to stick with his initial business model, founded on targeting a niche and local market (both audience and advertisers) with a product unlike any other available.
Since launching the business in 1997 with a $42,000 capital investment he has stayed more or less true to that model with undisputed success when judged by distribution.
The flagship Scoop magazine has grown to 22,000 copies per edition while Scoop Traveller is now approaching 40,000 copies per edition.
Beyond a simple niche-focused business model, Mr Hogan says the company would not have survived if it had not diversified into other publications and supplementary online products.
"I think it's almost impossible to make a one-magazine publishing company successful," Mr Hogan said.
"I've been doing this for 17 years and there's not a hope of making the numbers work – I think that's why a lot of people come in and they lose everything.
"A lot of them are passion projects and eventually the passion runs out and the cost and the bleeding takes over."
It's not hard to find examples – Sheila Magazine being the most recent.
Sheila was launched as a product of Lustre Publishing in 2010 to replace Silver magazine, a publication Kristen Watts and Amanda Walsh had launched in 2008 to compete directly with Scoop.
Kristen Watts became editor of Sheila and was a director of Lustre Publishing, which went into voluntary administration in February.
Two months earlier, Ms Watts founded a new publishing company, LP Publishing. She could not be contacted for comment.
Perth Vita is another example of a magazine launched with hopes of shaking Scoop's market dominance.
Paula Rogers was an early publisher of the magazine, which was bought by West Australian Newspapers Holdings after the first edition was printed in 2005.
Ms Rogers told Business News the publication's case for snaring some of Scoop's market share was strong due to its alignment with The West Australian.
"We had the only daily newspaper in town where you could run house ads promoting Vita … so we looked at ways of cross-promoting, with all of that I thought we had a really great opportunity to succeed," Ms Rogers said.
The challenge was to draw advertisers away from Scoop, which Ms Rogers said was gaining traction but was ultimately inhibited by a drive to cut costs.
"If you're going to set yourself up to compete with Scoop you have to invest," she said.
"Many publishers expect instant turnaround, and with a publication that's quarterly it takes a long time to develop the brand and advertiser loyalty.
"We were beginning to get advertisers to change (from Scoop) but I believe the drive to cut costs and reduce the quality of paper impacted that."
In 2008 the West Australian Newspapers called it quits on Perth Vita and shut the magazine down.
Ms Rogers believes it may have been the only opportunity to establish a second WA lifestyle magazine targeting a similar market as Scoop as free and online publications now cover too much of the potential content.
Another lifestyle magazine has emerged in the Perth market, however, but with a different business model.
Peard Real Estate founder Peter Peard has funded the launch of a custom publishing company, Premium Publishers, which is producing the monthly magazine PRIMOLife.
But the venture is far from one focused on profits – instead Premium Publishers' managing director, Gabi Mills, said Peard Real Estate was using the magazine as a marketing vehicle for its real estate listings.
"We almost think of it as marketing by stealth; people might not realise that it has anything to do with Peard and the way we produced it is for the magazine to have value in itself," Ms Mills said.
"Once you get into it then you realise it's got the added value of real estate listings and stories about areas that you might want to live."
About 25,000 copies of the monthly magazine are being printed per edition and are distributed primarily through Peard's real estate offices and 200 home opens each month.
"We're sitting in a nice sweet spot at the moment where no one else is doing it, it's a point of difference for the reps and makes them stand out a bit," Ms Mills said.
"At the end of the day that's all we wanted to help them sell more houses."
But she said she was determined to make Premium Publishers a profitable custom publishing business, which could underwrite the expensive PRIMOLife publication.
"It's not a cheap business, (PRIMOLife) costs about $80,000 for an issue, so you need deep pockets if you want to be a media guru."