FEATURE: Established wineries are setting their sights on longer-term goals as the sector recovers from the issues of the past decade, and faces new challenges.
Western Australia is punching well above its weight on both the national and international wine scenes, but that success is doing little to ease tough market conditions on the local front.
WA wines featured prominently in James Halliday's recently released 2015 Wine Companion, with six of the top seven ranked Australian sauvignon semillon blends produced in this state.
It's good news in terms of recognition, but for many that kudos has yet to translate to economic reward.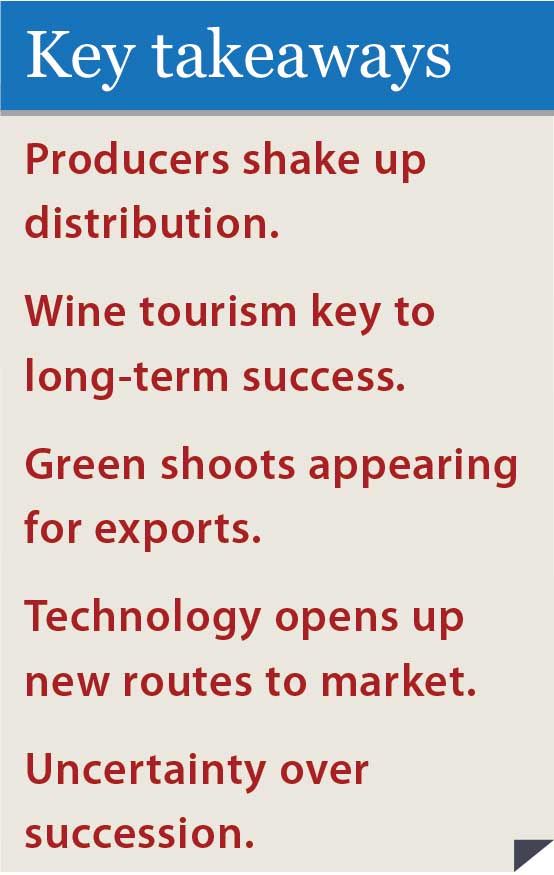 As the state's wineries plan for a more positive future after the oversupply and associated issues of the mid-2000s, they're now being hit with a tough export market due to the high Australian dollar and maturation of competing wine-producing nations.
And then there's the increasing dominance of retail giants Coles and Woolworths, which now occupy about 70 per cent of the liquor retail market.
Those challenges are not deterring the big names, however, which are constantly coming up with innovative ways to get their product to market.
If it's broken, change it
As one of the established wine-producing families in the Margaret River region, the Burch family has intimate knowledge of the economic difficulties facing the wine sector.
Amy Burch, who runs the business with husband Jeff, said the winery had been hit hard by the deteriorating export market.
At one point the winery, which rebranded from Howard Park to Burch Family Wines in 2012, was sending almost half its production to international markets.
"It died quite a while ago and now we're starting all over again. We were starting to be so successful … but it really dwindled for a while. It's still in a very sad state," Mrs Burch told Business News.
"We've found it really tough; it hasn't been easy at all but we've hung in there because we're here for the long term.
"I can't say that we've been successful over the last few years, but we are coming out of that mire now and things are changing for us."
Part of what's changed has been a reassessment of the business's distribution arrangements.
"We've made some dramatic changes with distribution; rather than have a national sales distributor we've gone for distributors that are state-based, so you get a focus and the knowledge of that state," Mrs Burch said.
"It wasn't working before, and I have a view that if it's broken, you change it.
"Now we're seeing a turnaround and it's encouraging … there's growth whereas we didn't have growth previously."
The winery has also come up with a regional range at a price point that has appealed to restaurants, as part of a strategy to increase the number of people becoming familiar with the Howard Park brand.
"The [retail] chains are getting larger and larger and having more control over your products, so if that's your only route to market, you're in trouble," Mrs Burch said.
"You have to look at other levels and have different products for different market segments.
"Unless you've got that distribution with the chains you don't have any distribution at all, and it's really hard because there are so many people out there wanting to be part of that … the chains are so selective.
"They're profit driven and wineries need to be in there to sell … I think wineries that excel in good wine-making and can stand out from the crowd have a great opportunity, but it's not always easy to get that recognition."
Mrs Burch said the only way to be recognised was through a dedication to top-quality winemaking, which has resulted in Howard Park winning multiple awards and James Halliday awarding four of its wines 96 points (out of 100).
To help with producing those award-winning wines, senior winemaker Janice McDonald was recruited in January 2011 after successfully launching her own winery – Stella Bella Wines.
Ms McDonald has also held chief winemaking roles at the now Treasury Wine Estates-owned Devil's Lair winery, as well as having been head brewer at the Matilda Bay Brewing Company and working with Little Creatures Brewery.
She has also recently been appointed to the board of the Australian Grape and Wine Authority, which is the result of a merger between the Wine Research and Development Corporation and the Wine Australian Corporation.
Ms McDonald told Business News part of the allure of working with the Burch family was its dedication to quality and willingness to invest in research and development, as well as unwavering dedication.
"They've kept belief in the industry, because really, with as tough as it's been, you have to have the belief, the tenacity and the resources to ride it out," she said.
"You're increasingly trying to push the boundary in your quality … ways of doing that in viticulture is looking at new and improved grape clones for example … it's really important to keep up that sort of development."
Burch Family Wines has also bought vineyards as a way of securing its ability to make quality wines.
It recently bought a vineyard it has managed for the past few years – the Dennis vineyard – as well as Broomstick Estate, from where it had sourced fruit for more than a decade.
"If you can build a reputation for your wine from a particular site then there could be others who could be quite interested in that site as well," Ms McDonald said.
"So it does become important to have quite a lot of control over the key vineyard assets."
Much of Mrs Burch's current focus is the development of what she's called her 'Wine Chapel' – a wine education facility aimed at attracting international tourists, which is due to open in the coming months.
Diversified approach
Like the Burch family, Leeuwin Estate's Horgan family maintained its dedication to producing only top-quality wines, even when the GFC hit and prompted competitors to introduce a lower level offering to the market.
Justin Horgan, the son of founders Denis and Tricia Horgan, said part of the reason for that steadfast approach was the nature of Leeuwin's business, and its practice of ageing wines on site.
"We've never changed what we do … we've got our hands on the rudder but it's a very big ship to turn," Mr Horgan said.
"We've got the 2012, 2013, 2014 [vintages] sitting in wine and the 2015 on the vines, so to change your mind on what you're doing is a long-term process.
"What we've worked out over the years, the 40-odd years that we've been around, is that if we focus solely on quality. That's working for us; to change that would be to change everything we do."
However, the business diversified its income early on to include revenue from tourism and events, which joint chief executive Simone Horgan-Furlong said was looking more promising.
"Looking forward we'll most likely have a regional airport, there are more cruise ships coming through, we're getting more visitors from the likes of Singapore and China and we're getting a return of US visitors," Mrs Horgan-Furlong told Business News.
"We're really excited about the focus from Tourism Australia in bringing food and wine tourists to Australia.
"Very early on we recognised that we're a very small player … but we very much recognised that wine is an experience and the best way to experience wine is on site amongst the vineyards."
Mr Horgan said tapping into that tourism market could also help improve exports.
"If we've got Singaporeans or Chinese on site as guests, they go back to China and Singapore and we're part of their story and adventure, and if they can come back into contact with our wines again the romance is very much made," he said.
"We have a lot of those people buy wine and then go home and continue to buy wine and also tell their friends."
Leeuwin sells wine in more than 30 markets, including the domestic markets, which Mrs Horgan-Furlong said gave the company some comfort amid the changing world economies.
She said there were definite green shoots appearing in some export markets that had dropped off for Australian exporters.
"Australia is making a return to the US market by telling a story of regionality and quality; we're a very big wine-making country and different regions do things differently and specialise in different areas," Mrs Horgan-Furlong said.
"I've been to the US twice in the last six months and I'm very excited about seeing a returned interest in our premium and super premium portfolio.
"I think it's really important that we get there on a ground level and tell the story of where we are, our place in wine and where Margaret River fits into it."
Export challenge
The Wine Industry Association of WA, now known as Wines of Western Australia, has set the sector a stiff challenge of more than doubling its wine exports, from $43.5 million 2012 to $100 million in the next three years.
Association chief executive Larry Jorgensen said key to achieving that goal was doing as Mrs Horgan-Furlong says – telling the story of WA wine.
He said that story could be told through strong voices in Asia, for instance, Australians who had a reputation for knowing good wine.
Such people included Singaporean wine commentator Ch'ng Poh Tiong, wine educator Lim Hwee Peng and Beijing-based judge Fongyee Walker.
"It's about people being in the market and knowing whose voice is being heard," Mr Jorgensen said.
"People have to be there, businesses have to go over there, engage with the wine buyers and the people who have a strong voice."
Geoff Barrett has been working with that on-the-ground engagement strategy in mind since founding Watershed Premium Wines under a managed investment scheme in 2001.
He told Business News the strategy had paid off, with sales in excess of 30,000 cases of wine into China in the 2012-13 financial year.
But Mr Barrett said about 25,000 of those cases went to one buyer, and the buoyancy of the Chinese market looked uncertain with austerity measures having limited wine consumption.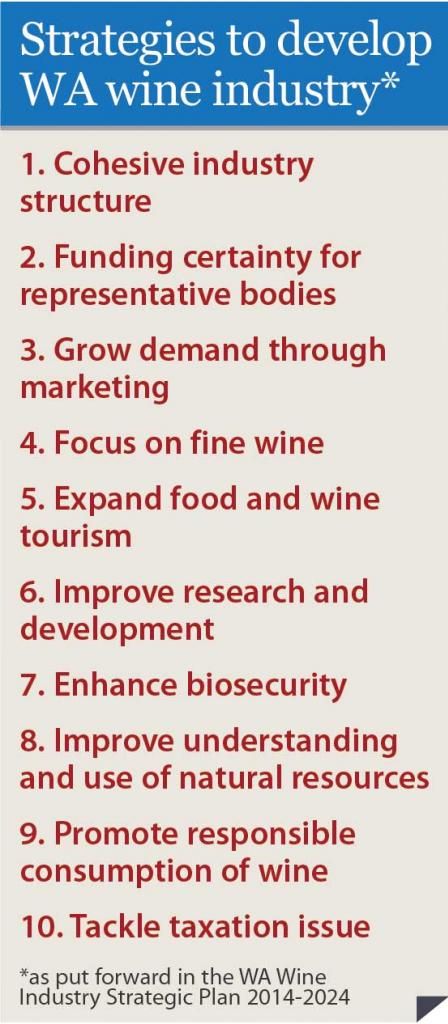 "Having said that we still do around 15,000 to 18,000 cases a year into China and that's showing no signs of slowing down," he said.
"The only signal that we've been getting in recent times would be a movement towards the more premium prices."
Mr Barrett has just transitioned Watershed to a privately owned business after running it as a MIS for 13 years.
He said the compliance costs of running Watershed as an MIS had become too cumbersome, and now the original investors had become shareholders in the over-arching Watershed company.
Despite the change, Mr Barrett said setting the company up under the MIS had given Watershed an edge over rival Margaret River brands.

"Because of our business model we were able to engage our own sales team. In Perth, for example, we have three full-time Watershed sales representatives who service WA," he said.
"That's unique because it's usually only the very large wineries on the eastern seaboard that have the fiscal capacity to have their own sales team.
"Through that uniqueness and that opportunity we've been able to build a brand much faster than you would have been able to otherwise."
Access to market
With the dominance of retailers Coles and Woolworths, wine producers are finding it increasingly difficult to access markets.
It's a challenge lesser-known winery Wine Shack knows well.
"One of the major issues is that if you break down the market, 75 per cent of all the off-premise sales is through Coles or Woolworths, so if you're not in Coles or Woolworths you're really fighting for 25 to 30 per cent of the market," owner Mike Calneggia said.
But he said the advent of technology and social media had opened doors for wineries such as his.
"We're finding now that there are different routes to market appearing … routes that don't necessarily go through the bureaucracy of Coles or Woolworths," Mr Calneggia said.
Such avenues included UK online wine retailer Naked Wines, which is essentially like crowdsourcing for boutique producers.
Another opportunity is the Vine Collective, launched by local entrepreneur Ben Thomas.
Once Mr Thomas obtains the appropriate liquor licence, the Vine Collective will enable consumers to buy wine from their favourite WA winery through his site.
Mr Calneggia said those and similar examples had changed the relationship between producers and wholesalers.
"Distributors can't send the same message as what we can sell ourselves. Once upon a time the distributors would have been our biggest customers, now our biggest customers are [the retailers] or the likes of Qantas," he said.
"In some respects the industry was a little bit beholden to the gatekeepers and the people who rate the wines.
"It still happens, but it's to a lesser degree. If people like something personally they will go out and find it."
Mr Calneggia said that also challenged wineries, as consumer preferences were changing more rapidly than they had in the past, making staying ahead of the curve problematic.
"We do that by remaining informed about what's going on in the marketplace; our ability to do that is, in some respects, a lot easier now with the amount of information that's available."
The road ahead
Another challenge for many WA wineries, and one that Mr Calneggia witnesses on a regular basis in his role as a consultant, is the future of family-owned wine businesses.
The Horgans and Burches are well advanced in the process of handing over to the next generation, with family members already taking on management roles.
The same has occurred at Voyager Estate, with Alexandra Burt taking over following the passing of her father, Michael Wright.
Despite these high-profile examples, Mr Calneggia is sceptical about the extent to which the passion for wine businesses founded by earlier generations.
"This family legacy thing in the wine industry, I think, is a little bit of a fantasy because it's all good when it's going well … [but now] it's not a happy place so what you're finding is the kids are coming through and are just not interested in it," Mr Calneggia said.
In the case of Leeuwin Estate, the Horgans' dedication to Leeuwin remaining a family business is clear, given the fact they've been fending off offers for years.
"You don't get into the wine business and succeed without a great deal of passion and long term vision – things that we're doing now are going to impact on the next generation and all these amazing foundations that mum and dad lay are the gift for where we are today," Mrs Horgan-Furlong said.
"From time to time we get approaches but we're not interested in selling … we see this very much as a long-term family business so we've never explored anything like that."