SPECIAL REPORT: Global economic forces, a national election and state political exits have shaped the 2014 Most Influential list.
Global economic forces, a national election and state political exits have shaped the 2014 Most Influential list.
Major changes in business or politics inevitably result in upheaval of some kind, and whether this is viewed as positive or negative is obviously a matter of subjective opinion.
From a Western Australian perspective, Business News has identified four significant events that have altered the landscape.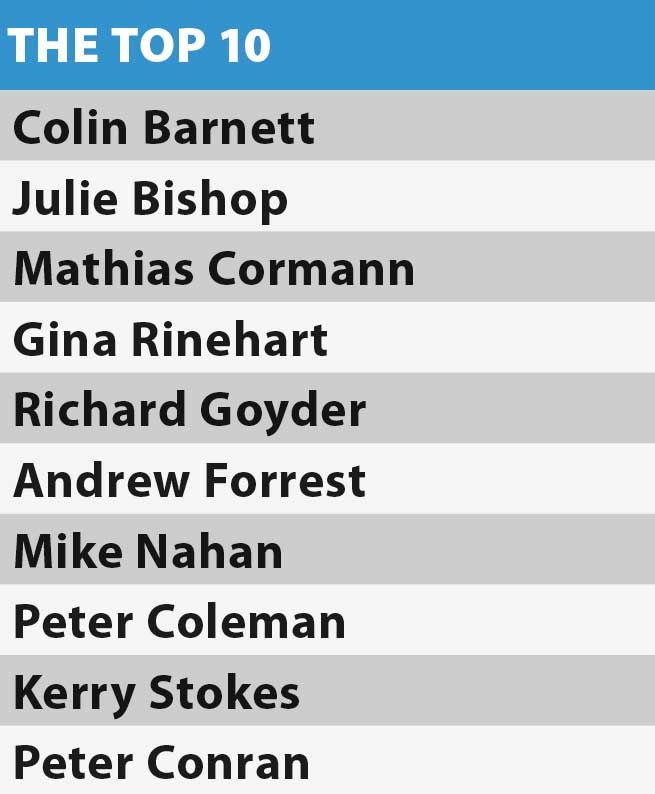 The first occurred last year when, as anticipated, the Liberal-National coalition won the federal election, elevating a number of WA-based politicians from powerless opposition to important roles in the national government.
The most significant are Foreign Minister Julie Bishop and Finance Minister Mathias Cormann.
The second event cannot be pinned to a date and started more than a year ago when Christian Porter quit state politics to head to Canberra. Since then, the succession options for Premier Colin Barnett have dwindled and his most experienced political colleagues have left the building – literally or virtually.
That has elevated Mike Nahan to treasurer, if not political successor, and put even far more state government control in the hands of key bureaucrats such as Peter Conran, the director general of the Department of the Premier and Cabinet.
In industry, global forces are combining to change the power structure in WA. Despite dramatic price falls, iron ore remains important; but there is a caveat. The power, as always, resides with those that have growth opportunities and, at this stage, Gina Rinehart's Roy Hill project is the only major development promised in that field. Andrew Forrest's Fortescue Metals Group might also go for some expansion, if prices don't collapse below $US80 tonne, but his influence is broader than that. He is using his significant wealth to fund philanthropy and make a big play in agriculture. Watch this space.
LNG remains very important as a stable industry that offers diversity from more volatile mining. But there is a chance that the last of the big land-based gas developments are being completed and the shift to floating processing will change the importance of the industry in WA.
Chevron Australia boss Roy Krzywosinski still has two major gas plants to finish, and his ability to do that successfully means he remains influential.
As Woodside Petroleum CEO, Peter Coleman is also a major player in the shape of WA's LNG future. Will FLNG be the technology that makes the state a true centre of excellence, at the forefront of innovation – or will that expertise drain away?
Media magnate Kerry Stokes remains a key influential figure – controlling major media in the state as he diversifies his wealth.