The proposed $750 million redevelopment of Garden City Booragoon is the latest project in a booming retail construction sector.
The proposed $750 million redevelopment of Garden City Booragoon is the latest project in a booming retail construction sector.
Two significant changes to state government policy settings have been credited with providing the impetus for much of the state's retail construction activity in recent years.
Released four years ago, the Activity Centres planning policy has freed-up shopping centre owners to go ahead with major expansions, with an increasing focus on incorporating apartments, commercial office space and hospitality premises alongside retail extensions.
The policy removed an 80,000 square metre limit on the size to which shopping centres were allowed to grow.
The policy, therefore, which also requires shopping centre owners to include residential, office and hospitality components in any expansion plans, has largely done what it was created to do – become an impetus for major redevelopments.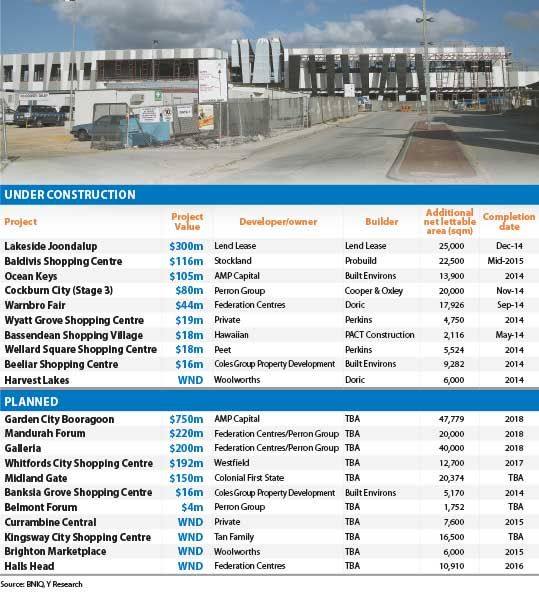 Shopping Centre Council of Australia deputy director Angus Nardi said the other significant policy shift that made retail expansion more attractive for developers was the deregulation of trading hours to allow weeknight and Sunday trading.
However, the Economic Regulation Authority's draft report on its inquiry into microeconomic reform, released in April, found Western Australia's retail trading hours were still among Australia's most restrictive, and there was no real justification for the current restricted shopping hours.
The ERA recommended full deregulation of trading in WA, with the exception of Christmas Day, the morning of ANZAC Day and Good Friday.
"Progress of further trading hours in line with the ERA's recent recommendations would provide a further boost," Mr Nardi said.
"Further liberalisation makes perfect sense given Perth embraced Sunday trading faster than when it was introduced in other cities like Brisbane and Adelaide."
Nevertheless, more than $700 million worth of new centres or expansion projects are currently under construction in the metropolitan area, while more than $1.5 billion in expansions are being planned.
Y Research chief of problem solving Damian Stone said it had taken some time for shopping centre owners to adjust to the new planning regulations, with the last major expansion of shopping facilities in Perth occurring in 2004, when Whitfords City was redeveloped.
"The policy change has allowed landlords to catch up to national trends," Mr Stone told Business News.
"We're seeing larger centres now grow to truly major regional status.
"And that's the size where you can build office buildings next door, and public transport has that critical mass where you can build the apartments and people want to live there with the vitality that a larger shopping centre brings."
Mr Stone said the current retail supply boom was being underpinned by the expansion of new residential estates that need local shopping facilities.
He said many of the projects in the planning pipeline were neighbourhood centres, anchored by a Coles, Woolworths or an IGA supermarket.
"The reliance on supermarkets to underpin new development will intensify in coming years as Aldi starts to occupy its planned 50 to 60 stores in WA," Mr Stone said.
The largest value project in the pipeline, however, is AMP Capital's $750 million redevelopment of Garden City in Booragoon, which won approval from the Western Australian Planning Commission last month.
AMP plans to expand Garden City to 120,000sqm, making it the largest retail facility in WA.
Currently ranked first on the Business News Book of Lists for shopping centres is Westfield Carousel, which has 82,874sqm of retail space.
Final concept planning at Garden City is now under way, with a development application expected to be lodged before the end of the year.
Despite the mammoth investment, Garden City will only become the 14th largest centre in Australia once the expansion is complete.
However, according to AMP Capital state development manager Scott Nugent, Garden City is the third most productive shopping centre in Australia, on a dollar-per-square-metre basis for speciality sales.
Mr Nugent said AMP was planning on building at least 120 apartments in the first tranche of residential development around Garden City, in collaboration with development firm TRG Properties, while there will be up to six restaurant or hospitality premises, subject to market demand.
"We think residential around the shopping centre is a good move, and we also notice our customers telling us that they want more than just cafes in the middle of the mall," Mr Nugent told Business News.
"They want restaurants, new cinemas, main streets and after-hours facilities, things that the shopping centre just doesn't have today.
"Naturally, to pay for some of those other community benefits you need more retail, and we are pleased that we will be able to meet their requirements."
Other big-ticket items in the planning phase are Federation Centres' $220 million and $200 million redevelopments of Mandurah Forum and the Morley Galleria, respectively, which will be looked at more closely in 2015.
Whitford City's $192 million proposed revamp hit a roadblock last year after the metro north-west development assessment panel said the plan would not result in the creation of an activity centre.
In the construction space, the $300 million redevelopment of Lakeside Joondalup Shopping City will increase its size to 96,000sqm, which would make it Perth's largest mall, until Garden City's expansion is completed.
Other significant projects currently under way include Perron Group's $80 million expansion at Cockburn Gateway Shopping Centre, Stockland's $116 million extension of the Stockland Baldivis Shopping Centre, and AMP's $105 million redevelopment of Ocean Keys Shopping Centre.