Having a 'Eureka moment' was a long way down the list of reasons why some of WA's best-known entrepreneurs started their businesses.
Having a 'Eureka moment' was a long way down the list of reasons why some of WA's best-known entrepreneurs started their businesses.
As starts in business go, the experiences of Stan Perron and Janet Holmes a Court could hardly have been more different.
The two Western Australians share many traits as entrepreneurs, including a fondness for supporting the arts, and having overseen major business empires that have helped shape this state.
But the stories of how they got there are chalk and cheese.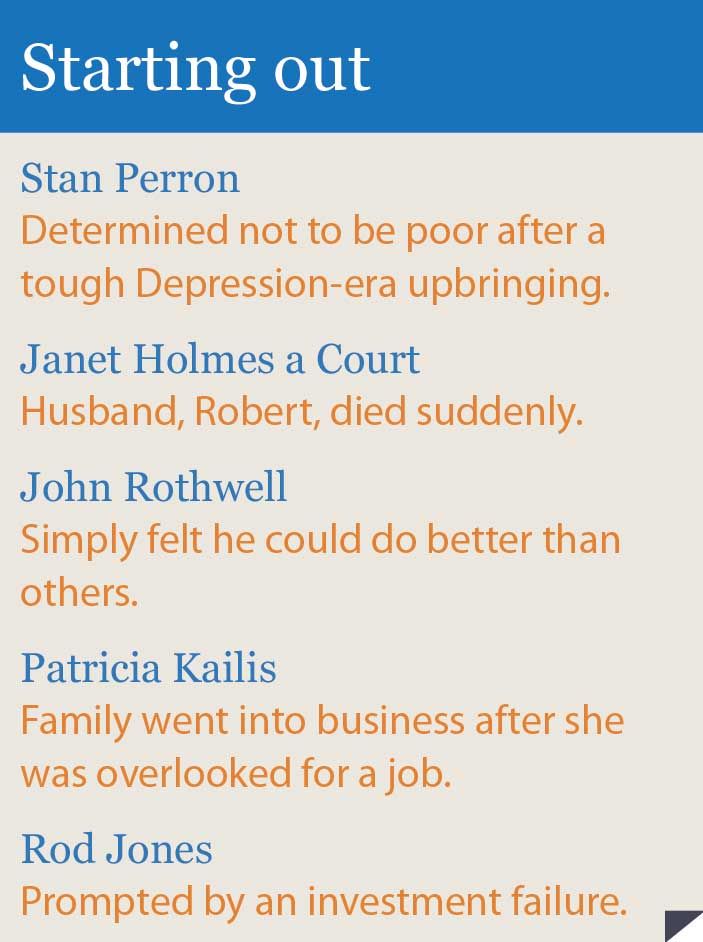 Stung into action by a poor upbringing, Mr Perron was in the trucking business before he had reached the age of 20, working in Darwin during World War II.
By contrast, Mrs Holmes a Court was educated at the University of Western Australia and enjoyed a life at the top of society, raising a family before the sudden death of her husband in 1990.
Overnight, nearly half a century after Mr Perron bought a half-share in a truck, Mrs Holmes a Court had to assume control of a vast empire that had been kept running by the wheeling and dealing skills of one man.
However while it seems few entrepreneurs share much in the way they got started, it seems it is only the experience of running a business that ties them together.
Earlier this month, when Business News asked five well-known WA business leaders what inspired them to go into business, the reasons provided were as different as the individuals themselves.
In fact none admitted to inspiration, as such. Rather it was desperation or even frustration that seemed to be more appropriate.
"I have enjoyed controlling more than being controlled," Austal founder John Rothwell said.
"You want to do things for yourself. You think you can do better in the field that you are in than others.
"It is a bit of pride, it is far more fun than doing it for someone else.
"There was no particular moment when I said 'wow I am going to stop doing that and go into business and here are the clear reasons'.
"I have really never known much different since I was 25 or 26."
Mr Rothwell, Mr Perron, Mrs Holmes a Court, former MG Kailis Group chair Patricia Kailis, and Navitas CEO Rod Jones spoke as a group about the start of their business lives at a recent luncheon hosted by accounting firm EY as part its Entrepreneur of the Year judging process.
All have considerable experience in business but none can match the longevity of Mr Perron, who escaped a tough upbringing in the Goldfields and headed to the Darwin as an 18 year old, where he became half-owner in a truck.
He recalls moving to Laverton as an 11-year-old boy in the mid-1930s when his dad took a job there. There was no school or proper housing.
"From the time I was 12 I desired to live better," Mr Perron told his follow master entrepreneurs.
In fact the entrepreneurial spirit was writ large in the young Perron. He had learned decorative wood design called 'fretwork' at school and applied those talents to manufacture items for sale. His efforts were rewarded to the point where he could afford a small machine to aid his work. He still owns that piece of equipment, according to colleagues at Perron Group.
His time in Darwin was challenging due to the war and the tough conditions in the north. He was medically unfit for active duty and was supposed to be flown to Sydney for treatment after getting steel in his lungs working on his vehicle, but a Japanese raid interrupted that.
Mr Perron recalls evacuating Darwin in a small convoy that took 11 days to reach the town of Katherine. These days, with a road, it takes four hours.
The difficulty of those times and the success of Mr Perron, whose business life was not without financial trials in its early days, reveal what an entrepreneurial character is capable of.
Those characteristics appear evident in the other entrepreneurs interviewed, notwithstanding that their lives may have been easier as children or even for much of their adulthood.
"I didn't really have any option," said Mrs Holmes a Court, whose high profile entrepreneurial husband, Robert, died suddenly in September 1990 leaving a vast but financially unstable empire spanning a array of sectors such as media, cattle stations, London theatres and the Vasse Felix winery.
The widowed Mrs Holmes a Court admits to having little idea about business when she stepped into the office and decided to take over the enterprise out of concern for its staff and their futures.
"People thought they were out of a job," she said.
"I thought I couldn't let that happen.
"If I had known anything about business I would never had done that.
"I felt someone had to step up to plate and reassure these people that life was not over."
Her husband had gone into business in 1970 when, as a lawyer, he was appointed to administer the financially troubled Albany Woollen Mills. He ended up buying the business and quitting law because his then partners at his firm did not think it appropriate for a lawyer to be on the commercial side of the ledger.
For the next 20 years he wheeled and dealt in a way that, Mrs Holmes a Court attests, only he could – apparently without significant input from her, or even most of those who worked with him
While Mrs Kailis also became a widow in the 1990s, and was left in charge of a family enterprise – fishing and pearling group MG Kailis – her role in shaping the business started at the beginning.
As a talented medical professional she had climbed the ladder in the bureaucracy of WA's health sector and, she had been assured, was next in line for a major appointment at a well-known hospital.
Her husband, Michael, was prepared to take something of a back seat as her career blossomed.
However, she was stunned to find out that a man had beaten her to the post, an unexpected applicant who had a family to support and was, she was told, "nearly as good" as she was. Promised the next opportunity, Mrs Kailis abandoned that career path in the bureaucracy when her husband learned of a struggling business in Dongara and they decided to take it over.
"It was necessity," Mrs Kailis said.
"He (Michael) had a wife and child to look after."
"My father said 'as one door closes another opens'.
"That is how we got into the fishing industry, the rest just flowed from there."
Not only did Mrs Kailis become involved in business, she also became a renowned rural doctor and is recognised for her research in genetics.
Navitas founder Rod Jones admits it was a financial calamity that tore him out of his comfort zone.
"I always did well at the jobs I had but I always got frustrated because people could not see what I saw as the bigger picture," Mr Jones told Business News.
Nevertheless, Mr Jones acknowledges the big catalyst for him going into business was a $6,000 investment in a friends business that went sour. When the bank involved took everything he had, because he had signed a director's guarantee, Mr Jones said he had to find a new way to rebuild.
"I think if what happened to me didn't happen I doubt I would have gone off on the path I did," he said.
"But losing everything made me say I was going fight to get back everything and I wasn't going to do that working in the government; I had to go on and do something better and more interesting."
Mr Jones said he looked carefully at many opportunities before leaping on the one that became Navitas, now a listed entity, because the risk was low and he was convinced of its success.
He thinks a key attribute of all entrepreneurs is the ability to take people along on a journey. However, he admits he struggled to find funding in Australia for his venture and ended up receiving backing from Asian investors that better understood the education business he had in mind.
EY Entrepreneur of the Year regional director western region, Peter McIver, said the discussion had dug below the analytical research that tended to look at key attributes of entrepreneurs rather than what inspired or motivated them to get into business.
"Our research shows that entrepreneurs are risk takers, but often they are probably put in a position where they don't want to work for the people they do, or they don't like the establishment they are in, and see the opportunity to use adversity and turn that to advantage," Mr McIver said.