SPECIAL REPORT: Law firms are having to adapt as more businesses build in-house legal teams and squeeze billing rates.
Law firms are adapting as more businesses build in-house legal teams and squeeze billing rates.
When Michael Lishman took his first job as a lawyer in the early 1980s, Perth's top firms like Stephen Jaques Stone James and Parker & Parker had teams of people working on mortgage documents for banks and building societies.
The top firms also had big insurance practices. But all that has changed.
Those services have been 'commoditised' and are now handled by second-tier law firms or, more often, have been taken in-house.
Those trends are continuing apace, with businesses increasingly keen to have their own in-house legal advisers.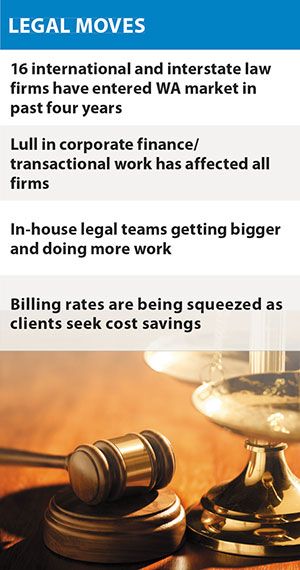 "A lot more of it is done in-house than used to be the case," Clayton Utz partner Peter Wiese told Business News.
"There is no question that in-house legal departments have taken a lot of the commercial work from the external firms."
Running in tandem with this trend has been growing pressure on billing rates.
"There is pressure on the private firms to reduce costs in their general commercial work, no doubt about that, and I wouldn't have said that two years ago," Mr Weise said.
Squire Sanders managing partner John Poulsen believes the legal profession is going through a big adjustment.
"There was a purple patch for lawyers, in fact all contractors, when clients just wanted to get work done and it didn't really matter what it cost," Mr Poulsen said.
"Every margin is being shrunk.
"Lawyers earned far too much money during the boom times and thought that was the level it was always going to be at."
Herbert Smith Freehills managing partner Perth Tony Joyner marvels at the pace of change.
"A couple of years ago, corporate activity decreased materially, and it hasn't really picked up," Mr Joyner said.
"This affected everyone, including law firms. So there is less work to go around and at the same time a slew of new law firms have entered the market.
"And of course amidst all this we have the globalisation of many of our local law firms. It's amazing how quickly the landscape has changed."
In-house lawyers
Larger companies in Perth have always had substantial in-house legal teams.
Woodside Petroleum, for instance, has 29 in-house lawyers according to Law Almanac, while Shell, Rio Tinto, Chevron and Wesfarmers all have more than a dozen lawyers in Perth (see table below).
Wesfarmers actually has about 40 lawyers and 10 support staff on its national legal team, with about half in Melbourne providing day-to-day legal services to its retail businesses.
Its Perth lawyers are part of the corporate and litigation groups supporting all Wesfarmers' business operations, in areas including insurance, commercial disputes, regulatory matters and employment.
Experienced lawyers say the use of in-house legal counsel has waxed and waned over the years but agree it's clearly on the up-tick.
"It seems every company wants to have its own general counsel," Gilbert + Tobin partner Michael Blakiston said.
"Some of them are extremely good lawyers in their own right, and so they know what value external lawyers can bring in. Lawyers have to ask the question, what value do they bring?"
Mr Blakiston sees this as a clear threat to commoditised legal work, involving standard documentation.
"Why should someone be able to charge high rates for that? It doesn't make sense," he said.
"But if you are doing really specialised work, and on a regular basis, then you're value has gone up."
Allens Perth practice director Andrew Pascoe said working with skilled in-house counsel had become the new normal, and presented an interesting challenge.
"They understand their business and their internal client much better than we ever can," Mr Pascoe said.
"The challenge for us is to constantly reassess our value proposition.
"We need to build relationships where we understand each other's strengths and limitations, which leads to greater collaboration and partnering outcomes."
Some lawyers are concerned that in-house counsel, particularly in smaller companies, could be stretched beyond their expertise and experience.
"Some of the mid-tier companies think they need an in-house lawyer, so they get one and then they think they should be able to do everything," Mr Blakiston said.
"That's where one of them will come unstuck. I can just see it, and then there will be a reappraisal."
Mr Wiese has a similar concern.
"I think people generally seem to be prepared to take a higher level of risk in return for a lower level of cost than they were in the past," he said.
"The question is, will the cycle turn again, because the cost of dispute work, in terms of legal costs and management time and effort, is high."
Costs focus
The push to reduce legal costs, like all business costs, manifests in many ways.
Mr Poulsen said one strategy was for businesses to bring in procurement experts.
"They don't necessarily understand what is being delivered or value relationships and history; it's a box-ticking exercise," he said.
"The other dynamic flowing through the industry is using alternative fee arrangements.
"We are proposing a lot more alternatives – there are endless combinations of risk sharing.
"You just have to work harder and smarter."
Mr Joyner said that some businesses were trying outsourcing.
"That's here to stay, in some form," he said.
"Some are putting procedures in place to ensure that only work that passes some sort of risk analysis test gets legal input at all.
"And of course rates and panels are always being re-jigged and refined.
"Smart clients, and smart firms, are working on this together.
"So for example, we think there's a place for outsourcing, now that technology has advanced sufficiently.
"We have a large outsourced operation in Belfast, and we're currently working out how to take advantage of this in Australia."
Fresh from having the read the futurist study 'Tomorrow's Lawyer', Mr Blakiston believes the industry faces a frightening rate of change for those that don't adapt.
He believes the traditional business model for law firms will be challenged, not for his generation but for the next.
"The days where you bring in four or five graduates to do discovery work, charging $180 to $220 an hour, what value does the client get from that," he said.
"Now with outsourcing to cheaper environments, and the use of technology, in terms of word association and how to pull information together, that rump of profit generating capacity will be gone.
"The other challenge, and this is the bigger one for me, is how do we train our juniors?"
"It will end up like the apprentice issue, where people don't want to train apprentices because it costs money, but they want the skilled tradesperson at the end."
New brands
The influx of new brands to the Perth market has tapered off over the past year but has not come to an end.
The latest entry is US-based litigation specialist Jones Day, which recruited former Allens partner Stephen McComish to open its Perth office last month.
Sydney-based partner in charge Chris Ahern said Jones Day was a very proud disputes resolution firm.
"In the US we're seen as the lead lawyer on 'bet the farm' litigation and disputes," he said.
Mr Ahern expects legal work will flow from the completion of many large resources and infrastructure construction projects.
"When projects come to an end, often arguments ensue.
"We want to be seen as the premier project and construction disputes firm in Perth," he said.
The firm's short-term goal is to build a team of 20 lawyers in Perth so it can handle large and complex matters.
The many branding changes have not yet affected the rankings in Business News Book of Lists, with Herbert Smith Freehills continuing as the state's largest firm with 156 legal staff.
Next come local stalwart Jackson McDonald, UK-based Ashurst, and independent Australian firm Clayton Utz.
The Book of Lists data does not reveal much growth, but a few firms have trimmed their numbers – these include King & Wood Mallesons, Lavan Legal, Corrs Chambers Westgarth, Steinepreis Paganin, and Rockwell Olivier.
All agree that the market has become more competitive, as more firms chase work in a fairly lacklustre market.
"I think after the rebranding and mergers, not all of the resulting firms will be here in five years' time by any stretch," Mr Blakiston said.
"It's a seriously competitive market, and that's a good thing, competition is good."
Mr Lishman, who now heads the Perth office of UK firm Clifford Chance, said it was too early to judge the varied growth strategies.
"Law firms are like super tankers, they aren't speed boats," he said.
"So it will be some time before we can see the effect of changes being made now."
Mr Lishman said he still rated Freehills, Mallesons and Allens as his main competition, despite all of the changes in the market.
"They are very resilient organisations; as a competitor I never underestimate them," he said.
Mr Pascoe believes Allens' strategic alliance with UK firm Linklaters is working "extremely well, and for the right reasons".
"There isn't a merger structure that imposes an outcome; it's working well in the areas where the alliance makes sense.
"Some of the most significant wins have included transactions from Brazil into PNG, or from Russia into Vietnam, not just into Australia.
"The deals we are winning, and the regions where we are winning new work, represent new work and opportunities that we would not have without this alliance," Mr Pascoe said.
He said financial integration was not needed to make the alliance work.
"I just don't accept the proposition that a shared profit pool necessarily drives a better or different outcome. Having a shared profit pool can create as many artificial barriers as it does drivers," Mr Pascoe told Business News.
Instead, he said, personal drivers had been vital.
"What has evolved is the direct and personal relationships between the two firms. That has been the most significant driver of success," Mr Pascoe said.
"You can't impose that or legislate for that, its organic."
In contrast to Allens' alliance strategy, Freehills chose to merge with UK-based Herbert Smith.
"We've obviously gone for a full merger with a really good global firm, with particular strength in Asia and Europe, looking to grow, especially in the US and Africa," Mr Joyner said.
"The combined firm is ranked by Chambers as in the top 10 in the world.
"It's gone well, especially once we started winning the cricket again.
"In Perth it has meant we've been able to work with more clients in Singapore and elsewhere in Asia and also helping them connect in international markets."
US-based Squire Sanders has a unique position in the local market.
"We're the only global firm in Australia that has its head office in Perth," managing partner John Poulsen said.
"We've had to go through a paradigm shift, we are the Australian office of a global firm, so our playing field is Australia and the region."
Mr Poulsen said building Squire Sanders national presence had allowed it to pursue a 'one office, three locations' strategy, in contrast to many established firms that replicated services into each state and ended up competing with each other.
Mr Poulsen said the cultural fit with Squire Sanders had been critical.
"What's been really interesting when I talk to managing partners of other international firms in Perth is how they are told what to do by head office; we have none of that," he said.
Mr Blakiston said putting his local practice into Gilbert + Tobin had been very successful.
"We had the benefit of two complementary practices coming together, and there is a marked acceptance that practising law in the west is different from practising law in the east because the client base is different," he said.
And Mr Blakiston is confident that G+T has a bright future in its current form.
"Some claim globalisation is the only way to go, but we're doing extraordinarily well as an independent national firm," he said.
Clayton Utz believes its independence has created a big opportunity.
"It's probably opened up more opportunities than it's closed down, for us," Mr Wiese said.
"If you look at the big non-aligned firms in London or New York, they only have us and a couple of other options in Australia now."
To highlight the scope of this opportunity, it's notable that only nine of the law firms on the Chambers Global Top 30 ranking have a presence in Perth.
That leaves plenty of others to work with.