SPECIAL REPORT: Perth's northern and southern fringes remain the hotbeds for residential land development, but short-term supply issues have hit the industry's ability to keep pace with a surge in demand.
Perth's northern and southern fringes remain the hotbeds for residential land development, but short-term supply issues have hit the industry's ability to keep pace with a surge in demand.
Western Australia's top developers are gearing up for a busy 2014 after a solid 12 months of recovery in the residential development sector.
Vacant land stocks declined to their lowest level in seven years last August, despite the significant slowdown in new mining construction and mining services.
And with the Housing Industry Association and RP Data's latest residential land report revealing Perth's median land value increased in the September quarter by 9 per cent to $591 per sqm, the nation's highest, the state faces the potential of another land shortage, as experienced during the boom years of 2005 and 2006.
Urban Development Institute of Australia WA chief executive Debra Goostrey said despite developers selling the highest number of lots in 10 years in 2012-13, she did not expect stock levels to fall to 2005-06 levels.
UDIA research showed there were 2,872 vacant blocks sold across the Perth metropolitan area and Peel region in 2013, with an average price of $237,652.
At the end of 2013 there were 1,338 lots on the market, with an average price of $344,447, the UDIA said.
Ms Goostrey said while developers were working as quickly as possible to bring forward subdivision plans, land releases were being snapped up at near-record levels.
Peet managing director Brendan Gore agreed, saying most developers were pre-selling nearly all of their new lots ahead of them receiving title.
"Very few of us have titled stock, if any," Mr Gore told Business News. "We're seeing high demand across pretty much all the growth corridors in the metropolitan area, and we're seeing quite strong sales traffic and web traffic week in and week out.
"When you look at the population growth of Western Australia, it's been very strong for the last couple of years but it hasn't really translated into the property space, despite the strength of the mining sector.
"I think what's unlocked that demand is lower interest rates, and I think the market has understood that going back to last calendar year that the bottom had been reached."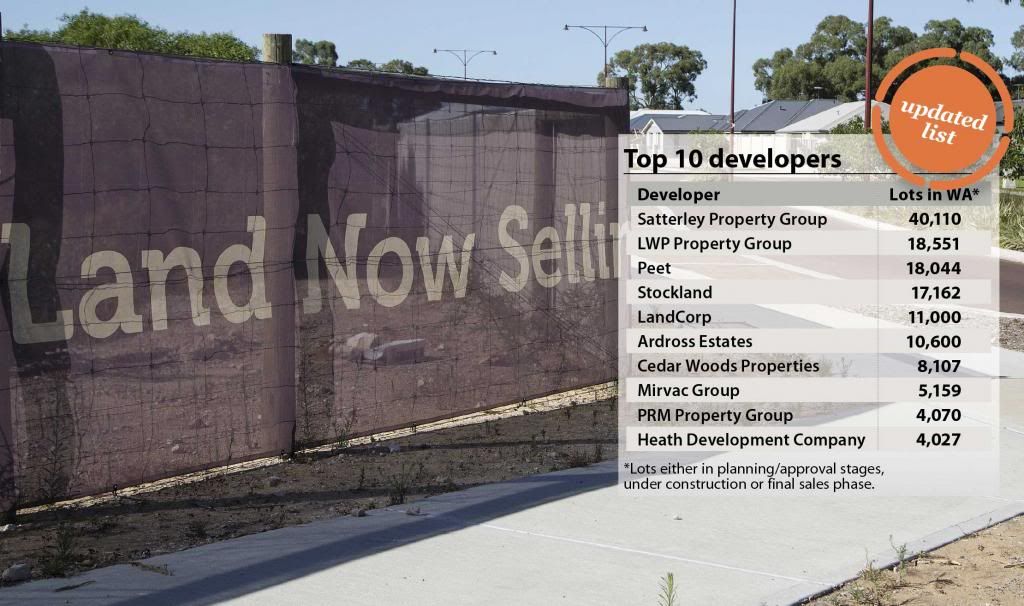 Satterley Property Group remains the state's top developer, according to BNIQ research, with 40,110 vacant lots in its development pipeline.
LWP Property Group came in second place with 18,551 blocks, closely followed by national developer Stockland, which holds 18,376 lots either in the planning stage, under construction, or in the final sales phase.
Ellenbrook, where LWP is the dominant developer, was the state's top development hotspot in 2013, BNIQ research showed, with six estates comprising 16,308 lots either in the planning or approvals phase, or under construction.
LWP chief Danny Murphy said the tight supply situation would most likely continue until the middle of the year when he expected the market to soften, allowing developers to catch up - unlike the protracted shortages in 2005 and 2006.
Mr Murphy said that to keep up with demand lots were being sold five to six months ahead of the title being issued.
"Normally it would be three months," he said.
But the supply squeeze, particularly in the last six months, has driven up prices which will act to reduce demand, along with slowing population growth.
"We are in three out of the four (major metropolitan development) corridors and in all of them we have seen price increases over the past 15 months of 15 per cent."
The second most active area in terms of lot development was Baldivis, which has 12,495 lots either in planning or being built and a median land price of $185,000.
Active developers at Baldivis include: Spatial Property Group, which is either planning or constructing 4,000 residential blocks at its Spires and South Baldivis subdivisions; Stockland, which has 2,184 lots in the pipeline at Settler's Hills; and Cedar Woods, which holds 2,191 lots at its North Baldivis and Rivergums estates.
During the next 12 months, according to UDIA statistics, 6,191 lots will be released in the Perth metropolitan area and the Peel region, with 3,480 of those blocks coming to market in the next six months.
Developers' focus on affordability has resulted in a significant reduction in the size of housing blocks in new land estates.
According to a UDIA survey, the average size of blocks sold in Perth fell 9.2 per cent in the 12 months to September last year, to 412 square metres.
About 70 per cent of the lots produced in 2013 were smaller than 500sqm, a big change from the 1970s when the minimum lot size allowed under planning regulations was 597sqm.
Settlements data from Landgate indicated there were 155 vacant land sales in 2013 in Butler, with a median land size of 225sqm and a median price of $170,000.
In Dayton, which is located near the Swan Valley, 188 vacant blocks with a median size of 270sqm were sold in 2013, for a median price of $199,995.
Nigel Satterley, chief executive of the state's top developer, Satterley Property Group, said shrinking block sizes meant developers needed to ensure certain levels of amenity were included in estate plans.
"People can't afford the quarter acre block," Mr Satterley told Business News.
"What has happened in WA is that homebuilders, who are very innovative, and land developers have worked together to keep housing affordable.
"But people want amenity up front, which means parks down the road, a continental deli, convenience shops and schools; so unless you can get the infrastructure in up front in these master-planned communities which are bringing diversity of people in, they are not going to work.
"For example in Brighton, Ellenbrook or Vale, those places where you have big volumes of sales happening, you have got good infrastructure.
"There are good parks, sporting fields, schools, shopping and medical facilities, all within close proximity to employment areas."
Urban infill
Another significant development in the residential land sector in 2013 was the emergence of urban infill as an alternative to new land estates on the urban fringe.
In 2010, the state government set an ambitious target of 47 per cent of new residential land to be developed in urban infill areas.
LandCorp general manager metropolitan Luke Willcock told Business News the agency was currently managing six key urban infill sites in varying stages of development – Claremont on the Park, Cockburn Central Town Centre, Springs Rivervale, Carine Rise, Mayor Rise, and Perry Lakes.
Mr Willcock said LandCorp had adapted its offering to provide greater housing choice through these urban infill projects, which were designed to take advantage of close proximity to public transport networks and existing infrastructure.
He said the number of apartments, townhouses and villas delivered at LandCorp developments had more than doubled during the past four years, on the back of increased demand for less traditional housing in established suburbs.
"In 2013, approximately 70 per cent of LandCorp's metro portfolio stock was earmarked for medium to high-density housing such as apartments, villas and townhouses," Mr Willcock said.
Cedar Woods Properties WA state manager Stuart Duplock said urban infill was one of the strongest areas of Perth's residential land market in 2013.
"We went from a period post GFC where not many of those developments were getting up, either they were not getting finance or not achieving pre-sales, but clearly that's all turned around in the last 12-18 months," he said.
"It's a great development in terms of residential home supply, because it is providing opportunities in near-city locations."
Australand general manager residential WA Tony Perrin said there had been a massive shift in recent years in consumer acceptance of higher-density living arrangements.
"There is a greater range of people who are prepared to live in smaller dwellings, predominantly linked out of the fact that transport is becoming a key driver and proximity to your workplace and proximity to the city is a good place to live," Mr Perrin told Business News.
"The government is servicing the market well by creating opportunities. They are providing good opportunities for developers to look at, to purchase and get land back into market.
"You could also argue in some way that the whole reactivation of Perth city itself in the last four years is stimulating far greater level of interest in people wanting to live closer to the CBD.
"There are a lot of things going on in the city compared to a few years ago, and that has materially changed perceptions of the city."
Mr Perrin said migration from overseas was a primary driver of the growth in popularity of urban infill developments in Perth.
"The majority of people are coming from countries where apartment living and smaller accommodation living is normal, and as such when they arrive here they are satisfied by our market," he said.