Junior resources companies are enjoying a renewed interest for capital raisings as investors return cautiously to equity markets after a dry 2013.
Junior resources companies are enjoying a renewed interest for capital raisings as investors return cautiously to equity markets after a dry 2013.
About a dozen Western Australian explorers and developers have either unveiled plans to tap equity markets or announced successful raisings in the past fortnight.
This includes Wolf Minerals raising $183 million, as well as smaller raisings of less than $5 million from Rox Resources, Triton Minerals, Coziron Resources and Talga Resources.
A number of companies have also announced their intentions to raise equity, including Kingsgate Consolidated's plans for nearly $60 million, the Michael Fotios-backed Swan Gold Mining, which is aiming for up to $20 million, and Phoenix Gold, which has outlined an $18.2 million raising.
Azure Capital chairman John Poynton said investors were warming to capital raisings as they increased their risk tolerance.
"There is no doubt that there is better appetite, in the mining space particularly, for capital raisings," Mr Poynton told Business News.
"Clearly the gold price has gone up a lot and even the nickel price has gone up as well, which has led to people being more supportive of capital raisings generally."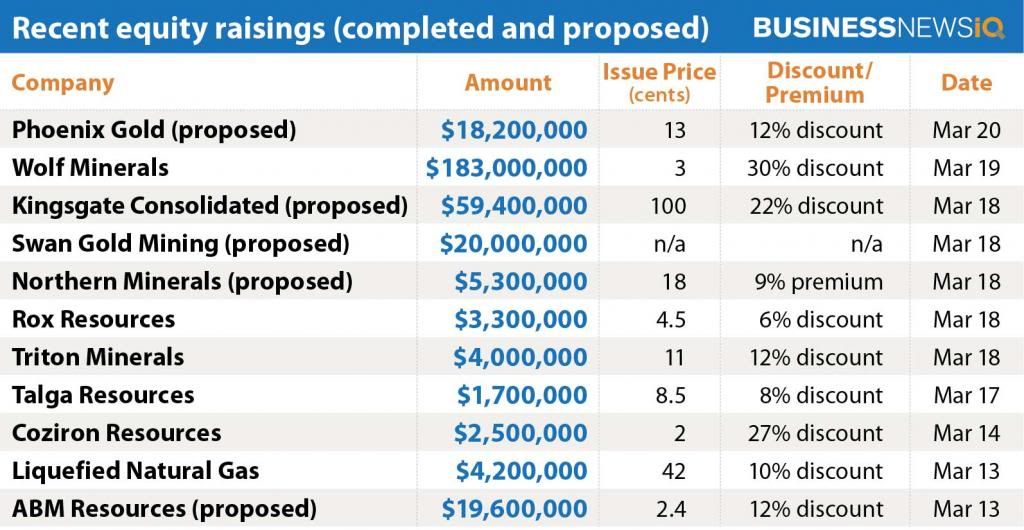 Hartleys head of corporate finance Grey Egerton-Warburton agreed, saying there was certaintly more capital raising activity in recent months.
"Confidence continues to return to the market, and people look at the resources sector and increasingly appreciate that it is oversold," Mr Egerton-Warburton said.
"The market has been improving for many months, but you are just seeing it now. Sentiment has been improving for many months and you're seeing greater access to capital for mining companies now."
The spot price of gold has jumped as much as 13 per cent since the start of the year, reaching as high as $US1,386 an ounce on March 16 on the back of rising tensions between Russia and Ukraine.
The higher prices bode well for gold-focused companies trying to raise equity, such as Kingsgate, Swan, and Phoenix, after the precious metal had a horror run in 2013 when it fell 28 per cent for the year.
Mr Fotios, who is chairman of Swan Gold, said he had noticed increased investor interest since January, which had only grown following a spike in the gold price in early February.
"A lot of institutions that have got out of gold last year are looking to reweight and that's where we are seeing a lot of the interest come from," Mr Fotios said.
Swan Gold holds one of the most distinguished boards of any junior explorer in WA, with Mr Poynton, Allion Legal principal Craig Readhead, and former banker and Gindalbie Metals chief financial officer Wayne Zekulich all serving as directors alongside Mr Fotios.
Despite the impressive board, however, the company was forced to undertake a $15 million raising last July.
Mr Fotios said he had seen a lot more support from the US markets since then.
"The investors overseas in particular, where they can see a short lead time to cash flow, they get interested in those opportunities first and that's what Swan represents," he said.
However, despite signs of improvement for junior companies seeking to raise equity, Mr Poynton believed capital raisings would remain tight for pure exploration plays.
He said companies that were either in production or close to production were best placed to complete a capital raising.
"There is still not a lot of appetite, yet, for companies that are explorers," Mr Poynton said.
"If companies are merely raising money to explore I don't think that sentiment is going to change, or improve, for quite a while.
"But if companies are doing something else, like bringing a project into production and they just need some money to spend on a plant, I think there will be good support for that, particularly in the gold sector."
Phoenix Gold said it would use the proceeds of its planned capital raising to fund the mine development plan for its Castle Hill and Broads Dam projects, north-west of Kalgoorlie.
The company completed a definitive feasibility study in February and is planning to start mining operations by the end of the year.
Research conducted by Business News found WA companies led a total of 245 capital raisings in 2013, with proceeds totalling just more than $3 billion.
That is a decrease of 42 per cent on 2012 and down 80 per cent on 2009 figures, when raisings reached a record-high of $14.8 billion.
BDO Kendalls director of corporate finance Sherif Andrawes said the high degree of market volatility was a major reason for the significant fall in capital raisings during 2013.
He said 2013 had been a poor year because a drop in commodity prices and the federal election campaign had created uncertainty among investors.
However with stabilising commodity prices, interest and exchange rates, and the federal election out of the way, he believed volatility would be reduced in 2014, which would lead to more capital raisings.