SPECIAL REPORT: Perth hotels have varied their marketing message to attract more of the leisure market, but new developments will present additional challenges.
Perth hotels have varied their marketing message to attract more of the leisure market, but new developments will present additional challenges.
Perth hotels are adopting new strategies to attract leisure customers as business travel softens from 2012 record highs associated with resources projects.
In a market preparing for several new developments to come online, hotels are seeking to lure visitors by dropping prices, changing marketing focus, and implementing new loyalty schemes.
The city's hotel occupancy rates fell from 86.2 in the March 2012 quarter to 84.2 per cent in 2013, and are predicted to decline to 79.4 per cent in 2016 as more hotels are built, according to Deloitte.
Pan Pacific Perth general manager Kim Powley described the market as strong and steady, albeit less robust than 2012.
"At the moment the year-on-year (room) rates have come down and that's definitely reflected across the competitive set that we're in," Mr Powley told Business News.
Business slowed at Pan Pacific Perth hotel (ranked 1st in Business News Book of Lists in terms of star-rating and room numbers) in 2013, but it had improved occupancy rates by changing its marketing strategy to attract the leisure sector, according to Mr Powley.
"One of the bigger things that we have done is recognise that there is a strong leisure market on Friday, Saturday and Sunday, but that market is a bit more rate sensitive so therefore you need to have a different offering," he said.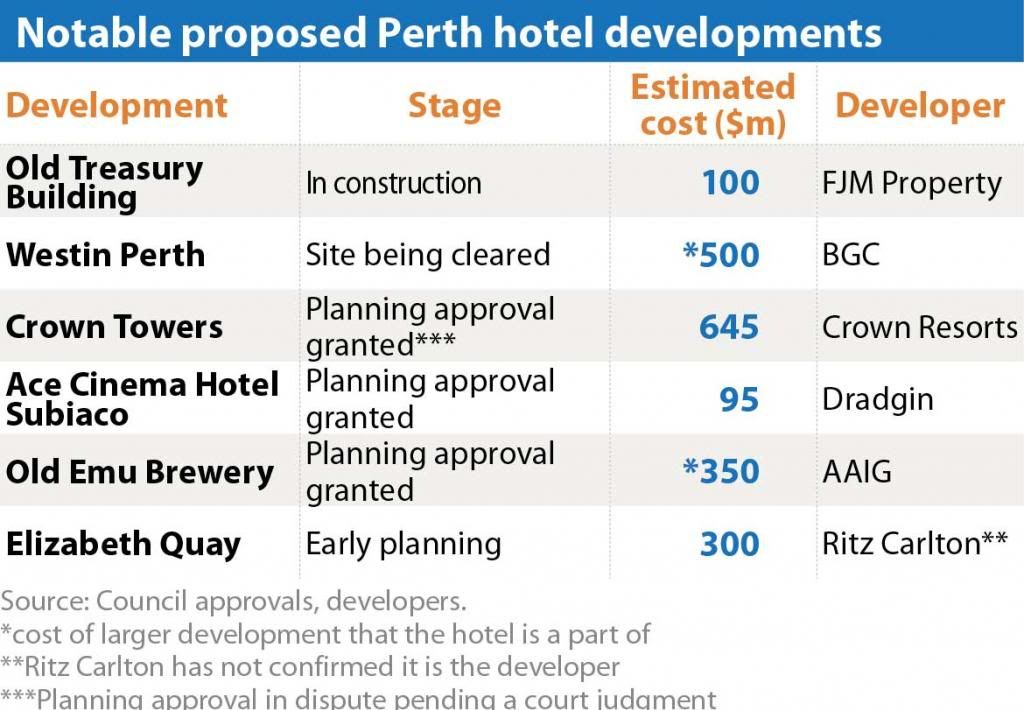 Offering lower rates and value-added deals on online booking sites, Facebook and through local papers had driven the increased take up by leisure visitors, Mr Powley said.
Duxton Hotel Perth general manager Bruce Doig said Duxton (ranked 4th) had decided not to reduce room rates to attract leisure customers.
"I know other hotels are dropping rates to attract customers, we're not dropping rates. We're holding rate. We believe our product and what we have here is extremely good. Our occupancies are very good, very positive. Once you start dropping rates it's very difficult to lift them," he said.
Tourism Council WA chief executive Evan Hall said lowering hotel rates and marketing the state's attractions better was key to enticing people to plan a break.
"Business travel is not as price sensitive and you can't increase it by marketing. If the resources are booming and people need to travel, they will. Leisure is far more price sensitive, but you can influence it by marketing and events," Mr Hall told Business News.
Mr Hall said WA had been paying the price for previous poor marketing of its attractions to a national audience.
"The amount the state government invests in interstate marketing is the sixth lowest out of the seven states and territories," he said.
"The missing business that we're suffering from is the tourists that we used to get from Sydney and Melbourne who stopped turning up ... because we have a reputation as being expensive and we didn't counter it with any positive marketing about the great things to do here, and beds weren't here."
Mr Hall said the Tourism Council was now focused on clawing back that interstate market share and increasing international tourism.
"The story's changing now, the beds are getting cheaper, we do have a city that's grown, that's far more appealing (with) more things to do," he said.
"We want to win back the interstate market to the market share that we used to have in 2007 and we want to get our fair share in the massive growth in leisure tourism from Asia.
"In terms of priority, the long-term huge growth will come from Asia.
"The state government has invested more in things like China and in particular airline partnerships with China Southern Airlines and Scoot Airlines ... and it certainly is a very effective way of driving international leisure tourists into WA."
Eighteen airlines now offer flights to and from 16 international destinations via Perth, with a number recently increasing their services, especially to and from Asian markets.
At Seashells Hospitality Group's four WA hotels, management is hoping to increase occupancy rates through a new loyalty program similar to cafes' drink 10 coffees, get one free strategy.
Seashells chief operating officer Gareth Thomas said its loyalty program was launched a fortnight ago through its new app, which allows customers to view, book and pay for rooms.
After booking 10 nights in any sequence, customers receive a $200 voucher for future accommodation at any of its four WA hotels.
Mr Thomas said the program was unlike more traditional programs offered by others that offered food and beverage incentives or required membership fees before customers could qualify for loyalty program hotel room discounts.
"Ours is free to use," he said.
"For example, a corporate customer who's staying at Mandurah regularly will get a benefit that they can use at another property for a leisure holiday."
Proposed hotels
A large pipeline of hotel developments will require additional visitors to keep occupancy rates from falling.
Australian Hotels Association data shows proposed hotel developments are set to add up to 2,500 rooms over the next five years, and potentially more than 4,000, which is more than the required target of 1,900 new rooms needed by 2020, according to the state government's strategic tourism plan.
However, AHA's figures also include developments in the early planning stages, throwing doubt on how many projects will actually be built.
Last week, Duxton's Mr Doig told Business News the hotel had decided to postpone its $125 million planned expansion, which is included in AHA's list.
Mr Doig said the decision was based on cost, which had risen beyond building a new hotel.
"The board at this point in time has decided not to proceed, due to the fact of the cost to develop. I could build a new hotel for $125 million," he said.
"If we found a piece of land we would consider the option, it would be a lot cheaper."
Planning approval for three towers of offices, a hotel and residential apartments at the Old Emu Brewery was granted in July last year, but since then only the residential tower has received a building permit.
Other hotel developments going ahead have special support.
Boutique six-star hotel at the Old Treasury Building, which has started construction, is part of a larger office development, while a 350-room Westin hotel on Hay Street, which BGC is preparing for construction, has state government support.
Boutique Hotel Alex Perth being constructed in Northbridge meets a niche market.
Crown Hotels, which is planning what will be Perth's largest hotel, Crown Towers, as part of a larger gaming and resort expansion, said it was relying on the attractiveness of its total offerings to bring in visitors.
"Crown is extremely positive about the accommodation market in Perth and believes the high quality of our resort and tourism infrastructure will support tourism in the city," a spokesperson said.