When Australia's health insurance funds increased their premiums at the start of April it was Western Australian fund HIF that had the lowest increases across the board.
When Australia's health insurance funds increased their premiums at the start of April it was Western Australian fund HIF that had the lowest increases across the board.
The fund increased its premiums by an average 2.98 per cent across its range of policies.
That compared to the industry average increase of 6.2 per cent and fellow WA-fund HBF's 3.72 per cent increase.
In dollar terms, the difference between the highest increase (by listed company NIB at 7.99 per cent) and HIF means people are paying $270 more over one year for a typical family policy.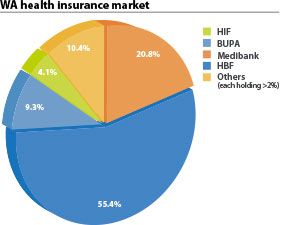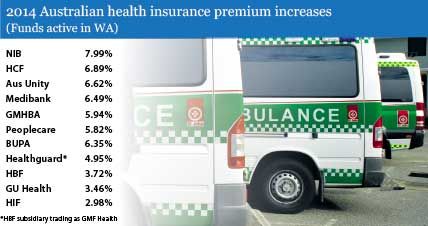 Chief executive Graeme Gibson told Business News the result was proof HIF's not-for-profit status was reaping rewards for members.
"We don't have the situation where policyholders agitate against shareholders wanting big profits," Mr Gibson said.
"You've got a situation now where the biggest increase came from the only publicly listed health fund in Australia – NIB."
All health funds are legally required to make a profit to ensure contributions from members are protected by a strong and growing investment portfolio.
According to the office of the Private Health Insurance Ombudsmen, HIF recorded a surplus of 3.7 per cent on income derived from health insurance premiums in the 2012-13 financial year.
Despite the narrow margins, the fund has continued its run of increasing premium revenue by about 14 per cent over the past four years. It expects to report revenue from premiums in the range of $106 million to $110 million for the 2013-14 financial year.
Mr Gibson said HIF's strategy of growing its member base enabled it to keep premium increases to a minimum but still result in the necessary profit.
For the 12 months to the end of December, the number of HIF policyholders increased by slightly less than 6 per cent, nearly double the growth rate of the health insurance industry Australia-wide.
"HIF is being rewarded for keeping its premium increases low … we are rewarded with volume growth, which is enabling us to pay our commitments going forward (instead) of increasing premiums," Mr Gibson said.
HIF's share of the WA market has remained relatively constant over the past four years at around 4 per cent, but its reach into other Australian markets is continuing to grow.
In 2010 nearly 95 per cent of HIF's business was in WA, but that fell to 87 per cent last year.
"We are enjoying significant support from Victoria, New South Wales and Queensland," Mr Gibson said.
"Generally speaking, those states are growing at around 25 to 30 per cent each year."
HBF is the largest player in the WA market with 55 per cent market share. Like HIF, its also kept its premium increases below 4 per cent for the past two years.
Mr Gibson said HIF had changed the way it engaged with potential policyholders in other states from mainly online strategies, to having more of a physical presence through sponsorship of community organisations, in addition to advertising.
One example was HIF broadening its five-year relationship with Surfing WA to sponsor all of the surfing governing bodies in each of the states.
"We're putting funding into the work that they do in developing strong relationships with communities," Mr Gibson said.
"And Australia is a coastal community, so it seems to be a good fit for us."
The strategy also aligned with the health fund's drive to attract members aged between 25 and 39.
Mr Gibson said that as the health fund grew it was also able to benefit from efficiencies derived from economies of scale.
Those efficiencies are yet to come to fruition, however, as the latest State of the Health Funds report from the Private Health Insurance Ombudsmen show HIF's management expenses remaining relatively stable over the past decade.
Over 2013 the percentage of premium revenue spent on management expenses was 11.8 per cent and equated to around $297 per policy.
In 2004, 11.4 per cent of income from premiums was spent on managing the fund. Its percentage spent on management was also higher than competitors HBF (9.9 per cent) Medibank (9.2 per cent) and BUPA (8.5 per cent).
But Mr Gibson argued that those decreased costs from the bigger funds were not being given back to members.
Having the lowest premium increase in the country yet still achieving membership and mandated profit growth gave Mr Gibson confidence it would remain competitive in the long term – even if a privatised Medibank decided to expand further into the WA market.
The Abbott government is due to sell off Medibank Private in public float in the next financial year.
"Medibank Private already has a presence in Western Australia, and it's not an insignificant proportion of the market, but what I do know is that they're under-represented in terms of growth," Mr Gibson said.
"We've been monitoring their share of the market and I can't say there's been any noticeable difference," Mr Gibson said.
"To answer the question of what a big health fund would do if they became private, whether they'd come to Western Australia and throw a bucket of money at it, as a shareholder I'd be questioning their behaviour and asking if that was money well spent.
"These are not new frontiers where you have to go and buy your way into the market."
Mr Gibson said performance of HIF's investment portfolio, which accounts for about half of its net profit, was also performing well thanks to a diverse range of cash and equity investments.