The future of BP's Kwinana refinery lies in improving productivity as the Australian fuel market undergoes significant disruptions.
The future of BP's Kwinana refinery lies in improving productivity as the Australian fuel market undergoes significant disruptions.
BP's recent announcement it would close its Bulwer Island refinery by mid-2015 is the latest in a series of closures of Australian oil refineries, which face increased competitive pressure from larger, more efficient facilities in Asia.
The Australian oil refinery sector lost an average $153.1 million each year in real terms in the five years since the GFC, according to the Australian Competition and Consumer Commission.
The loss of BP's Bulwer (Brisbane), Shell's Clyde (Sydney) and Caltex's Kurnell (Sydney) refineries now means Australia will have only four refineries: BP's operation in Kwinana; the Geelong refinery Shell recently sold to Dutch fuel giant Vitol as part of an overall $2.9 billion asset sale; ExxonMobil's facility in Altona; and Caltex's refinery in Lytton (Brisbane).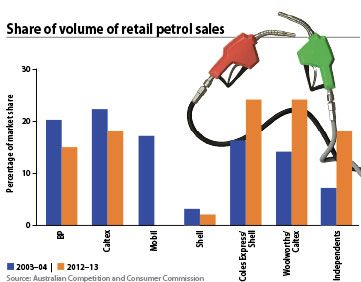 The fate of Australia's remaining refineries is yet to be determined, as they vary in terms of their capabilities and economics.
In what's widely seen as a measure of confidence in the Kwinana refinery, BP is spending $60 million in a maintenance overhaul on the facility.
Last month, BP Australasia president Andy Holmes said the company was upbeat about the facility, which would complete its turnaround in late June.
"Importantly, we believe the BP Kwinana refinery near Perth is advantaged in terms of the feedstock it can process and its ability to produce modern, high-octane fuel," Mr Holmes said.
"Providing it continues to deliver best-in-class safety and reliability performance, and continues to improve its efficiency, we believe it has a future."
As Australia's capacity to domestically refine crude oil has fallen, more fuel is being imported.
To that end, Caltex is converting its Kurnell refinery into a fuel import terminal, while BP is considering a similar move at its Bulwer facility.
Fuel giants and new entrants to Australia, Vitol and Trafigura, have both said their expansion plans will include focus on import opportunities.
Vitol has said it will look for new growth opportunities, particularly by adding fuel terminals at ports.
Spanish trader Trafigura, through its Puma Energy subsidiary, is currently building a fuel terminal at Mackay Harbour in Queensland after becoming Australia's largest independent fuel operator through its purchase of Ausfuel, Neumann Petroleum, and Central Combined Group.
BP's Mr Holmes said, when announcing the Bulwer refinery closure in April, investments in fuel import facilities were growing.
"There is a shift to greater interest and investment in product import facilities along Australia's coast," Mr Homes said.
"To meet growing demand, there will have to be ongoing investment in jetty space and bulk storage facilities."
Meanwhile the ACCC believes Australia's import parity price – which is the 'landed cost' of fuel to import terminals and factors in freight, insurance and exchange rate costs – means retail fuel prices will not be affected by refinery closures.
The spate of closures has created job losses, however, and sparked debate about energy security, particularly since Australia falls short of meeting its obligation to the International Energy Agency for required reserves of crude oil.
Another major change in Australia's fuel industry has been a gradual shift in consumer choice.
In the past nine years, the growing use of discounted fuel dockets has helped Coles Express Shell service stations and Woolworths Caltex service stations increase their market share from 16 and 10 per cent respectively to 24 per cent each.
BP has lost market share, going from a 20 per cent stake in 2003-04 to 15 per cent in 2012-13.
Caltex retailers not cobranded with Woolworths have also lost market share, from 22 to 18 per cent, in the same time frame.
Large independent retail chains have increased their market share from 7 per cent nine years ago to 18 per cent in 2012-13.