Intense competition among small to medium-sized builders is resulting in competitive tenders and tight margins.
Intense competition among small to medium-sized builders is resulting in competitive tenders and tight margins.
Western Australia's construction sector is heating up, with builders slashing margins to maintain their order books and employee levels amid fierce competition for new contracts.
Pindan managing director George Allingame told Business News competition for work in the metropolitan area had been boosted by the slowdown in new resources construction in the north of the state, which has also funnelled workers into the commercial and residential building sectors.
According to research published by the Construction Training Council, there were 145,730 people working in the construction industry in WA as of November last year, up from the previous highest figure of 139,200 in May 2011.
The November figures were 8.6 per cent higher than in 2012, the CTC said.
About 25,000 construction sector workers are employed in the resources sector. In all, 10.6 per cent of the state's total workforce are employed in construction, which contributes around 12 per cent of WA's gross domestic product, the CTC said.
Mr Allingame said competition for the works among small to medium-sized builders was particularly willing, with tenders being competitively priced on tight profit margins.
"It's not a bust, but it's not a boom, there is a reasonable amount of work around but it's being very competitively priced by a large number of builders," Mr Allingame told Business News.
"The government has been fairly active, but they've got some really big jobs out; there has been quite a steady flow of schools and those sorts of things, but most of their works programs are on pretty big jobs that the medium and smaller builders can't access.
"Those jobs are going to the majors; the hospitals are being built by the Brookfields and the John Hollands and those sorts of companies.
"It's the medium to smaller commercial builders where it's highly competitive at the moment."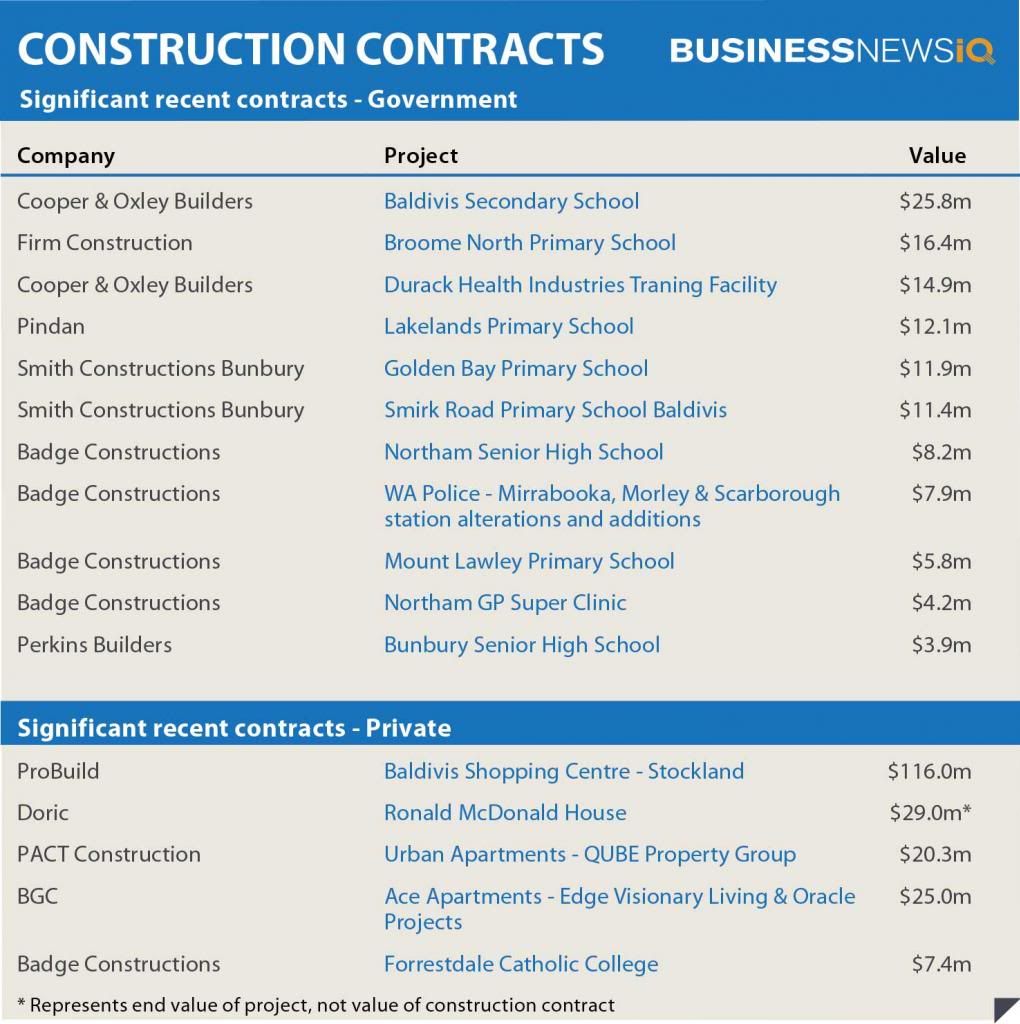 The state government has awarded 11 significant construction contracts since December, collectively worth about $122.5 million.
The largest of those deals was awarded to Cooper & Oxley Builders for the $25.8 million second stage of Baldivis Secondary College.
Cooper & Oxley was also the successful bidder for the Durack Health Industries Training Facility, a deal worth $14.9 million.
Pindan was awarded a $12.1 million contract for the construction of Lakelands Primary School.
Smith Constructions Bunbury was also a significant beneficiary of the government deals, having been awarded contracts to construct primary schools in Baldivis and Golden Bay, collectively worth $23.3 million.
In the north of the state, Firm Construction was awarded a $16.4 million contract for the construction of Broome North Primary School, while in the South West, Perkins Builders will build new year 7 facilities at Bunbury Senior High School under a $3.9 million deal.
Osborne Park-based Badge has also had a solid start to the year, announcing contract wins collectively worth nearly $33 million.
At Northam, Badge was awarded a $4.2 million contract to build the town's GP super clinic, as well as a $8.2 million deal to construct a new performing arts centre and to renovate administration facilities at Northam Senior High School.
Badge will undertake refurbishment and construction works at three police stations at Mirrabooka, Morley and Scarborough, valued at $7.2 million, while it will also rebuild the Mt Lawley Primary School under a $5.8 million deal, and construct four new school buildings at Forrestdale Catholic College, under a $7.4 million contract.
Outside of the government sector, Doric was recently awarded a $29 million contract to build the new Ronald McDonald House, adjacent to the New Children's Hospital in Nedlands.
Another significant private sector job was BGC winning the contract to build Edge Visionary Living and Oracle Projects' $25 million Ace apartment development in Rivervale.
Construction of that project is due to begin later this month.
Also this month, ABN Group subsidiary PACT Construction was appointed by QUBE Property Group to build its $20.3 million Urban apartments project in Wembley.
The level of competition in the sector was also underlined last week when apartment developer Finbar Group moved to secure its relationship with construction contractor Hanssen, signing a 10-year exclusivity agreement.
Under the agreement, Finbar will issue 5 million of its shares to Hanssen, which will be classed as a loan and repaid within five years.
Managing director Darren Pateman said the company's relationship with Hanssen, which began around 15 years ago, gave Finbar a competitive advantage that would be difficult to replicate.
"The talent pool of builders in Perth that have the skills and capability of developing high-rise projects is not large," Mr Pateman told Business News.
"If we were to be restricted to draw from this pool for our high-rise projects we would see an increase in construction costs, which would have a material effect on the affordability of our end product.
"Hanssen's capabilities and intellectual property has grown alongside Finbar's over many years and it makes good commercial sense to ensure that this relationship continues so that Finbar can confidently build on our $2 billion-plus pipeline."