More than a decade of 40under40 winners represent the changing face of new business in WA.
More than a decade of 40under40 winners represent the changing face of new business in WA.
I received a surprise email last week asking if the incoming CEO at National Australia Bank, Andrew Thorburn, was the first winner in the 13 years of our 40under40 awards program to run a national bank.
I quickly leapt to the bank's announcements to read of Mr Thorburn's appointment and determined that indeed he is the first to rise to such heights in financial services.
Of course coming from the ranks of our inaugural event in 2002, he has had a few years to get there.
But he is not the only high achiever among the 40under40 alumni; there have been some real standouts.
This year I really noticed the shift from resources to the emerging economy themes of software as a service and other tech-focused players, although it is worth noting that the First Amongst Equals award has predominantly been shared between technology, resources and financial services.
To provide a clearer picture, we decided to analyse the 520 40under40 winners since 2002 to see what sectors they came from and how that may or may not have changed over the years (see below graphic - click through to enlarge).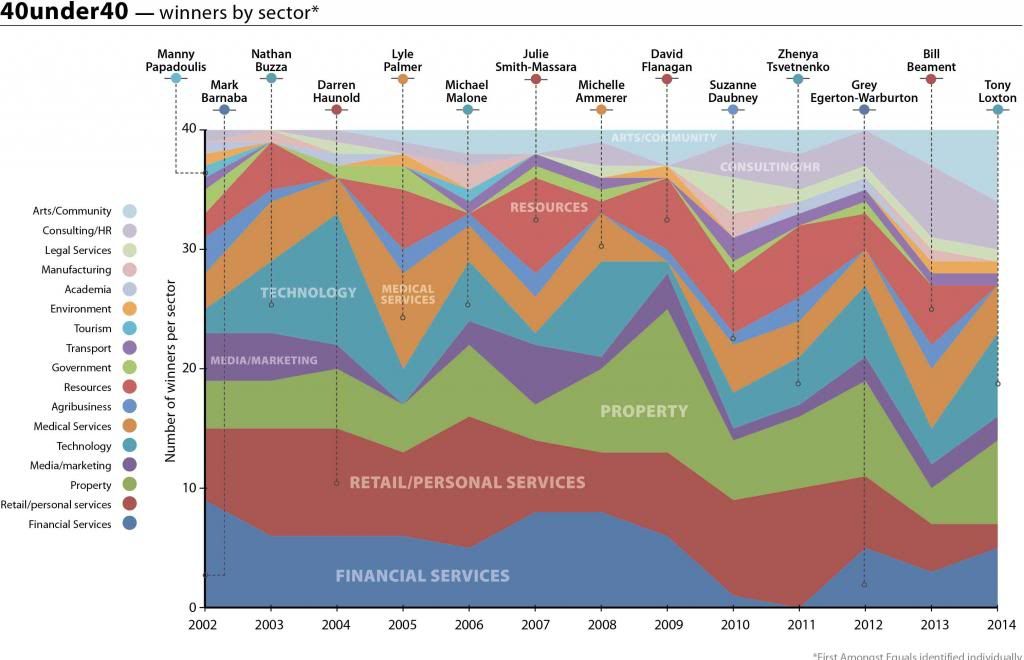 Such a process is not that easy.
Many businesses straddle more than one sector and there is a limit to how detailed you can be in terms of tipping the balance one way or another.
However, when you look at the graphic accompanying this story you can really see the shift away from resources.
For instance, the rise of consultants and human resources players is not necessarily from a non-existent base. Some consultants were among our past winners, but their businesses were so focused on resources it was easier to put them in that field. More consultants now are spreading their wings and diversifying to grow their businesses.
Similarly, some consultants who won this year – namely First Amongst Equals Tony Loxton and finalist Mark Wallace – run software-as-a-service businesses that really make them technology plays.
So in fact the number of tech winners, though relatively consistent over the years, might be understated in 2014.
What I will add to that is many winners from medical services will also fit that technology mould. We bracketed medical services around everything from physiotherapy to cancer research, and a high proportion of those winners came from the scientific side. So technology, including biotechnology, is a much bigger slice of the pie when it comes to 40under40 than might first appear.
That makes some sense when you think of the type of people who might impress the judging panel; technology often has that 'blue sky' element that attracts entrepreneurial people.
Another trend worth noting is the reducing dominance of financial services and the very broad field of retail and personal services. We included restaurants and hospitality in this grouping, so it is a very broad, catchall category. It is intriguing to see it diminish a bit.
Then again the tough new commercial environment means industry is looking to cut costs and find new ways to do business, and that lends itself to spending in technology that offers productivity and efficiency.
I have to say that I am sure financial services isn't dead as a 40under40 category, rather there are fewer opportunities for those in this field to crow about themselves under the current circumstances.
Of course Mr Thorburn is different. He took a chance in 2002 as a nominee – beaten for the top spots by the Mark Barnaba and Manny Papadoulis in the only year the First Amongst Equals was shared.
Mr Barnaba, an investment banker, was already very successful and has maintained an upward career trajectory despite remaining in Perth – generally a limitation in financial services outside the boutique sector.
Mr Papadoulis was one of our very rare tourism winners. That tough industry took its toll on his family business, Feature Tours, shortly after his win, but like a true entrepreneur he has bounced back – as a successful consultant to the sector.
Intriguingly, property and related fields such as construction have always provided strong candidates – but none has won the First Amongst Equals.