SPECIAL REPORT: Concerns have been raised over the sustainability of Perth's apartment construction boom, with prominent industry players suggesting Rivervale in particular is in danger of oversupply.
Concerns have been raised over the sustainability of Perth's apartment construction boom, with prominent industry players suggesting Rivervale in particular is in danger of oversupply.
Western Australia's biggest developer, Nigel Satterley, told a recent Business News Success and Leadership breakfast that investors buying off the plan would be particularly susceptible to a fall in apartment value due to excess supply.
Mr Satterley described current apartment sales as very soft, and pointed to a number of potential projects that were in danger of stalling as sales slowed.
"I certainly wouldn't be buying a high-rise apartment at this time," Mr Satterley told the forum.
"I'd sit back and wait to have a lot of choice in six to 12 months' time."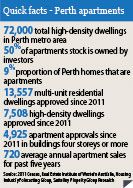 Mr Satterley said research by Satterley Property Group identified that 68 per cent of investors buying on behalf of superannuation funds wanted a house on land, rather than a multi-unit development.
Two areas singled by Mr Satterley out as a danger to investors were East Perth and the City of Belmont, which is home to a significant number of projects at the Springs Rivervale area, as well as a proposed 4,500-apartment development surrounding the Belmont Park Raceway.
Momentum Wealth managing director Damian Collins agreed that there was the potential for oversupply to occur in the Rivervale area, with more than 1,000 townhouses and apartments in the works.
But Mr Collins acknowledged banks and financiers remained quite restrictive on funding for property developments, which created a natural restraint on supply.
He said developments typically needed to achieve pre-sales upwards of 70 per cent to attract the equity necessary to get off the ground.
"As much as the Perth market and the developers have gotten back on board with bringing stock to market, the banks haven't really loosened up the purse strings and they are still being quite restrictive, tight and conservative in their lending practices," Mr Collins told Business News.
He also said there was a certain element of risk involved in investing in current apartment market conditions.
"There are a lot of vacancies in the apartment market and rents are pretty soft, right through the inner-city region," he said.
"Certainly that might restrict the number of investors keen to be looking at that sort of product because rental returns are pretty soft and it's pretty hard to find renters for properties in those locations."
The Belmont Park project is being managed on behalf of Indonesia's Golden Group by Perth-based firm Development Management Group.
Its managing director, Martin Steens, told a recent Australian Property Institute function the first phase of the project was on track to begin construction in about nine months, pending expected development approvals.
Mr Steens said he expected Perth's rapid population growth to stoke demand for project's apartments.
According to the Australian Bureau of Statistics, Western Australia's population grew by 76,000 in the year to September – a 3.1 per cent rise.
Urban Development Institute of Australia WA chief executive Debra Goostrey said Perth needed more apartments and more medium-density options because that type of housing product had not been delivered during the past two decades.
Blackburne Property Group managing director Paul Blackburne agreed, saying WA would need more than 1 million apartments built over the next 20 years.
Mark Hay Realty principal Mark Hay said Perth apartment development was starting to catch up to the rest of the world, with about 40 per cent of the multi-unit dwellings sold through his agency going to owner-occupiers.
Ten years ago, Mr Hay said, owner-occupiers took up only 10 per cent of apartments sold through his agency.
"We've got to understand people's lifestyles are changing," Mr Hay told Business News.
"The minimum you can get into a house in the suburbs is around $450,000, so it's becoming price prohibitive to a lot of young people.
"Certainly there is a bit of caution there in pockets and I'll point out Rivervale as a classic example, there seems to be a lot of apartments there.
"But the whole situation has changed and we are now seeing apartments being built in places like City Beach and Claremont, all these places where you didn't think you'd ever see those types of developments."