One of Perth's largest apartment projects by value is due to be launched in coming weeks in Rivervale, testing demand and pricing in what has become a development hot spot.
One of Perth's largest apartment projects by value is due to be launched in coming weeks in Rivervale, testing demand and pricing in what has become a development hot spot.
Construction company DORIC Group has been selected as the builder for Park on Swan, which will comprise 168 apartments with an estimated completion value of $160 million.
It will feature three-bedroom apartments priced from nearly $1.2 million and penthouses from $2.5 million.
The project's main point of difference from its lower-priced neighbours is its north-facing location, overlooking the Swan River and Belmont Park racecourse.
Park on Swan will join eight other apartment projects already under construction or in sales mode, in LandCorp's Springs Rivervale redevelopment area.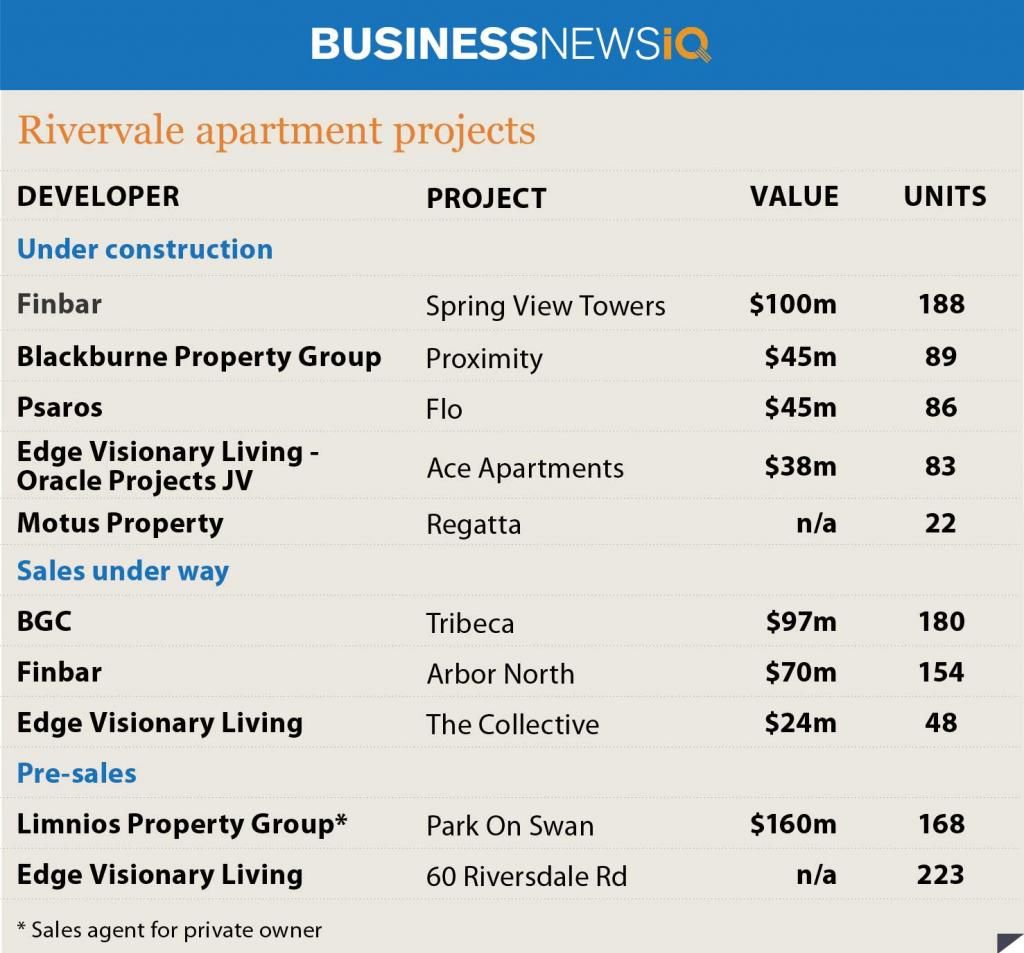 The location, on the corner of Great Eastern Highway and Graham Farmer Freeway, means the area has primarily attracted apartments starting from a 'budget' price just south of $400,000.
However, it's likely the handful of development sites fronting the river will be pitched at a higher price point.
There are three privately owned development sites facing the river, and LandCorp has told Business News it is in the process of amalgamating four smaller lots to create another 4,069 square metre development site next to Graham Farmer Freeway.
The group of private Asian investors that owns Park on Swan has appointed Limnios Property Group as selling agent.
Edge Visionary Living, which has a nearby development site at 160 Riversdale Road, is going through the planning approvals process for its project, expected to have about 220 apartments.
The third privately owned development site fronting the river is held by ABN Group.
Managing director Dale Alcock told Business News it would be a couple of years before ABN Group progressed its apartment development plans.
"That area is a terrific opportunity, but we are patient owners," he said.
"We want to see how that area matures."
Springs Rivervale is currently one of Perth's busiest construction precincts, with the biggest project being Finbar's Spring View Towers.
Blackburne Property Group, Psaros, Edge Visionary Living, and Motus Property also have projects under construction (see table).
Blackburne managing director Paul Blackburne said 90 per cent of sales at his Proximity project, which is now sold out, had been to Perth residents.
"Local demand for well-designed affordable apartments is so strong that we don't need to market in Asia as some do," he said.
Blackburne is also marketing BGC's Tribeca project, with the stage 1 development (of 92 apartments) to be released next week.
Park on Swan will rank among Perth's largest apartment projects by value.
Other big projects due to come to the market include The Towers at Elizabeth Quay, with 420 apartments across two buildings, and Finbar's Concerto tower in East Perth, valued at $220 million.
Limnios Property Group chief executive James Limnios believes the shrinking size of suburban lots combined with rising land prices will encourage demand for larger-sized apartments.
"More property buyers now see the advantage of enjoying the space of a large suburban home in an apartment development located in a prime lifestyle location," he said.
Mr Limnios said the developer of Park on Swan was a family from South-East Asia that had been investing in Perth for more than 20 years.
Construction is expected to begin in 2015 and be completed by 2016.
The development has absolute river frontage of 115 metres and includes 160 apartments as well as eight penthouses.
One-bedroom apartments are priced from $432,000, two bedroom apartments from $560,000, three bedroom apartments from $1,177,500, and penthouses from $2.5 million.
Mr Limnios said a key feature of Park on Swan, designed by architects Woods Bagot, was the 64 three-bedroom 'skyhomes', which have an internal living space of 128 square metres and a balcony area of 36sqm.
"These skyhomes are appropriately named because of their elevated location and the fact in size they compare favourably to a family sized home," he said.